STUDENT ACTIVITY
Chemical Engineering Department, SCOE takes initiative and organizes various technical and nontechnical activities such as Teachers' Day, Fresher's Party, Farewell Party, Model presentation competition etc under the umbrella of Sinhgad Student Council (SSC) from 2015-16.
"Sinhgad Student Council" is an association with a perfect blend of clubs to produce competent students to face the newer challenges of today's globalized world through holistic development. This council provides a platform for students to support, share and excel in potential qualities. This association includes 14 main clubs & 32 sub clubs.TI
The following activities are conducted in the department during 2015-16 and 2016-17
| | | | |
| --- | --- | --- | --- |
| Sr. No. | Year | Name of Activity | Date of conduction |
| 1. | 2015-16 | Teachers Day | 5th September 2015 |
| 2. | 2015-16 | Quiz Competition | 28th December 2015 |
| 3. | 2015-16 | Ball Toss | 18th March 2016 |
| 4. | 2016-17 | Teachers Day | 6th September 2016 |
Activities also include various technical and non technical events such as Maize, Heartbeatzz,mock placements,Indutrsy defined problems etc.as a part of Society level Megaevent "Techtonic" and half yearly published Newsletter completely managed by the students called as Chemigizer.
Before 2015-16 all activities were conducted under ACES, a association of Chemical Engineering students of S.E.,T.E. and B.E. headed by General secretory and Co – general secretory and a faculty  in- charge. It was comprised of various committees for smooth functioning of various events taking place in the department.
OBJECTIVES OF STUDENT ACTIVITIES  :
To built an amicable bridge between student fraternity and staff.
To act as a liaison between junior and senior students to cultivate the team spirit.
To provides a platform to express new ideas and encourage brain storming thoughts.
To have a rich amalgam of scientific ideas and interactions with eminent persons from business, industry and research fields.
TECHTONIC 2K14 working committee with faculty coordinators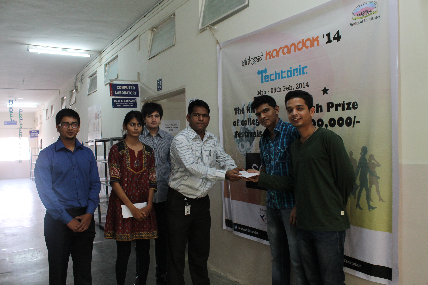 Event Prize Distribution during TECHTONIC 2K14
Farewell for Final year students