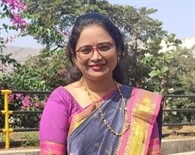 Mrs.Halle Priyanka Dhondiraj
M.Tech(DS&CE), Phd Persuing.
H.O.D. Information Technology.
+91 7498092541

Humanity has progressed from agricultural revolution to the industrial revolution and is now moving to an information revolution. These days, the name "Information Technology" has managed to encompass many aspects of computer technologies invented in the past couple decades. These IT spectrums can be covered in many types of professional fields such as Management Information Systems, Computer Networking, and Software Design. Department of Information Technology is established in the year 2012. Since from 2012 the department has grown in terms of Infrastructure, Teaching learning process and Qualified Staff.
During every semester, the calendar of events is prepared, which implicitly incorporates all the curricular and extra-curricular activities of the department and is followed meticulously without any deviation. Importance is given to quality teaching and learning process through faculty development programs for teachers and soft skill programmes for students. Special care is taken about the students whose performance is poor in the examinations through counseling and extra classes.
There is continuous internal evaluation of students through unit tests, internal assessment tests and quiz programmes. The problems of students are solved to the extent possible as and when they arise. The attendance and progress reports are sent to the parents after every internal assessment tests. The parents of weak students are informed about their status by telegram and also by telephone calls.
The students are encouraged to participate in seminars conducted by other Engineering Colleges. They are made to compulsorily participate in the weekly departmental activities such as debate, extempore, group discussion, Quiz and brain storming sessions.
Every effort is made to constantly improve the results of the students. I am very happy to inform that due to the concerted efforts of both staff and students, the results are very encouraging this time in case of higher semesters. The results of the lower semesters are also constantly improving.
---
Department Vision
We are committed to transform individuals into technologically competent and socially responsible professionals in Information Technology.
Department Mission
Provide individuals required knowledge in information technology domain.
Develop skills among individuals for applying knowledge to solve professionally defined problems in Information Technology domain.
Acknowledge individuals about continuous learning and Social responsibilities.
Department Objectives
To implement effective teaching learning process (T-L-P) so as to achieve excellent academic performance in the university examination.
To build a personality equipped with exquisite technical and non-technical skills, which are globally at par.
To make the students employable, introducing various skill development programs like Student Training Programs (STP) and Value Addition Programs (VAP).
To provide the opportunity to the students to participate in various co-curricular and extra-curricular activities for their overall development.
To encourage the students and faculties for participating in various research activities by facilitating them with various resources and by industry institute interaction (I-I-I).
To upgrade the staff qualification for the fulfillment of frequent changes in technology and education system.
To introduce various Faculty DevelopmentPrograms (FDP) and providing them proper guidance related to the subjects by experts in Train the Trainerprogram (TTT).
To transform thestudents to efficient engineers as well as a good human being.
I-I-I is providing various training on different projects which is helping the students to get collaborated with various consultancies.
Short Term Goals
To train and educate students to compete at global levels
To start PG program
To enhance infrastructure, faculty and processes for improved teaching learning
To Strengthen Industry Institution Interaction
Long Term Goals
To start  research center.
To develop consultancy
To create better entrepreneurs in the area of Information Technology
Department PEO, PO & PSO
Programme Educational Objectives (PEOs):
The students of Information Technology course after passing out will
Possess strong fundamental concepts in mathematics, science, engineering and Technology to address technological challenges.
Possess knowledge and skills in the field of Computer Science and Information Technology for analyzing, designing and implementing complex engineering problems of any domain with innovative approaches.
Possess an attitude and aptitude for research, entrepreneurship and higher studies in the field of Computer Science and Information Technology.
Have commitment to ethical practices, societal contributions through communities and life-long learning.
Possess better communication, presentation, time management and team work skills leading to responsible & competent professionals and will be able to address challenges in the field of IT at global level.
Programme Outcomes (POs):
The students in the Information Technology course will attain:
an ability to apply knowledge of mathematics, computing, science, engineering and technology;
an ability to define a problem and provide a systematic solution with the help of conducting experiments, analyzing the problem and interpreting the data;
an ability to design, implement, and evaluate a software or a software/hardware system, component, or process to meet desired needs within realistic constraints;
an ability to identify, formulate, and provide systematic solutions to complex engineering/Technology problems;
an ability to use the techniques, skills, and modern engineering technology tools, standard processes necessary for practice as a IT professional;
an ability to apply mathematical foundations, algorithmic principles, and computer science theory in the modeling and design of computer-based systems with necessary constraints and assumptions;
an ability to analyze and provide solution for the local and global impact of information technology on individuals, organizations and society;
an ability to understand professional, ethical, legal, security and social issues and responsibilities;
an ability to function effectively as an individual or as a team member to accomplish a desired goal(s);
an ability to engage in life-long learning and continuing professional development to cope up with fast changes in the technologies/tools with the help of electives, professional organizations and extra-curricular activities;
an ability to communicate effectively in engineering community at large by means of effective presentations, report writing, paper publications, demonstrations;
an ability to understand engineering, management, financial aspects, performance, optimizations and time complexity necessary for professional practice;
an ability to apply design and development principles in the construction of software systems of varying complexity.
Program Specific Outcomes(PSO):
A graduate of the Information Technology Program will demonstrate:
An ability to apply the theoretical concepts and practical knowledge of Information Technology in analysis, design, development and management of information processing systems and applications in the interdisciplinary domain.
An ability to analyze a problem, and identify and define the computing infrastructure and operations requirements appropriate to its solution. IT graduates should be able to work on large-scale computing systems.
An understanding of professional, business and business processes, ethical, legal, security and social issues and responsibilities.
Practice communication and decision-making skills through the use of appropriate technology and be ready for professional responsibilities.