"Any piece of knowledge I acquire today has a value at this moment exactly proportional to my skill to deal with it. Tomorrow, when I know more, I recall that piece of knowledge and use it better". -- Mark Van Doren.
Knowledge sharing is a continuous and systematic process for creating, acquiring, synthesizing, learning, sharing and using knowledge and experience for better performance and excellence. Knowledge sharing is an important part of teaching learning process of an academician. It is a good platform for interacting and sharing various management aspects.
Every year SIOM organizes Knowledge sharing Sessions as a teaching learning tool for the Faculties. This year these sessions were conducted by using case study approach. Case study is an effective tool for management education. Here in this sessions a variety of case studies were shared, discussed and analyzed by the faculties from various specializations like marketing, finance, human resource, Operations, systems, law and business communications.
Panel Discussion on Union Budget 2014 By SIOM Finance& Economics  Faculties:
SIOM faculties are always enthusiastically involved in current affairs in Business and in Society. This Year they had the Panel discussion on Union Budget on the same day it was presented by Our Finance Minister i.e. on 10th July 2014
The panel discussion was attended by all SIOM faculties to discuss and analyze the implications, challenges and the opportunities of the Union Budget of 2014-15. The panel covered important points like direct tax, indirect tax, fiscal policy, investment and various development schemes, subsides and a sectorial review to understand the impact on different sectors of the economy.
The session ended with discussion on questions been taken up from the audience. The panel discussion enriched the audience by giving them various dimensions of the Budget 2014-15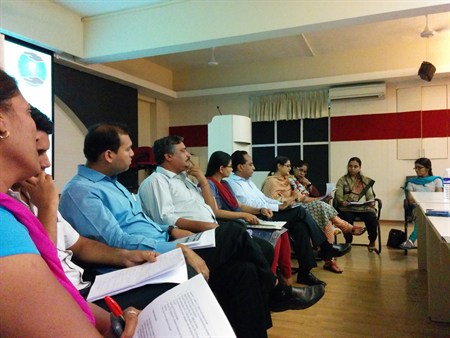 Knowledge Sharing Session year 2013 was conducted from 11/07/2013 to 13/07/2013 and following case studies were discussed during the session.
Sr.

No.

Name of the Faculty

Case study Topic

1

Dr. Ashok Tiwari

Should you listen to you the Customers?

2

Dr. A. Ramkumar

INDIAN RETAIL AT CROSSROADS

3

Prof. S. K. Sharma

Tasty Bite Eatables Ltd. (TBEL)

4

Dr. R. Dikkatwar

Turnaround Management

5

Dr. Satish Pawar

STORE IMAGE STUDY- The concept of the Factor Analysis.

6

Prof. M. S. Dhanawade

COMPETITIVE BIDDING

7

Prof. Balaji Khune

Apex Electrical Company Ltd.

8

Prof. Shradha Dhingra

Marketing & Distribution of Mushroom. Indian Refrigerator Market

9

Prof. Sagar Pawar

Toyota Motors Recall Crisis

10

Prof. Ramdas Kendre

Southwest Airlines

11

Prof. Giri Raju Laxman

Kellogg's Indian Experience

12

Prof. Pallavi Patil

Haldiram's Group- Seeking the 'Right Marketing Mix

13

Prof. Amol Khandagale

Subhiksha Trading Services Ltd.

14

Prof. Nilesh Anute

What went wrong with TestHub?

15

Prof. Apekhsha Somwanshi

Why Cross Badging?

16

Prof. Rajulee Mukherji

Do Celebrity Endorsers make a difference in the marketing of a Brand!

17

Prof. Aditi Gosain

Compendium of Case Studies on Distribution systems

18

Prof. Nishant Mishra

Key Elements in Conceiving a Business Model

19

Prof. Vardhaman Jain

An Empirical Analysis of SENSEX returns for last 22 years (Since Jan 1991)

20

Dr.Smita Sovani

Case Study of Barings Private Equity Pvt. Ltd.

21

Prof. Mangalagauri Deshmukh

Case Study of Mahesh Pvt Ltd

22

Prof.Aparna Ghaisas

Case Study of Electarge India

23

Prof. Samita Kher

Sneezing Global Economy: Is India Shivering???

24

Prof. Durga Bansode

The Rise & Fall of Global Trust Bank

25

Prof. Prajakta Gokhale

The Lotto Case (or Hitting the Jackpot)

26

Prof. Indrajeet Kole

How Volvo changed the way Indians Travel

27

Prof.Alekha Panda

Derivatives trading in India

28

Prof. Devyani Ingale

The demise of Rupee Cooperative Bank: A malady

29

Dr. Sheetal Khandre

South East Asian Crisis

30

Prof. Roop Kishore Singhal

Analysis of corporate restructuring Tata steel case

31

Prof. L.C Jhamb

Presentation on Attaining Excellence For Operations

32

Dr. Z.S.Mulla

Case study on MIS Design

33

Dr. Manisha Paliwal

Case Study-Rickshaw Bank

34

Prof Umesh Gramopadhye

Case- Aruna Shanbaug

35

Prof. Anthony Joseph

Case Study on Business Communication

36

Prof. Jyothi Pawar

Presentation on Gender Justice

37

Prof Aparna Madhekar

Case Study-The Tale Two Mehtas

38

Prof Asita Ghewari

Case-Study –Tyre Industry In India

39

Prof Pradnya Sawate

Case Study- Gati Industries

40

Prof Bharati Jagdale

Case-Study Core Banking HR Development

41

Prof Chandrakant Thorat

Case-Study Tata Steelium