SINHGAD - HARVARD BUSINESS SCHOOL PUBLISHING TIE UP
---
Inaugural Function held at SIOM
---
S.T.E.S. got into an alliance with the Harvard Business Publishing on 31st October 2013. S.T.E.S. Founder President, Prof. M. N. Navale has entered into an association with Harvard Business Publishing (HBSP) represented by their Managing Director – Asia-Pacific, Mr. Vinay Hebbar. Prof. M. N.  Navale and Mr. Hebbar addressed the Directors, Faculty and Students' of Sinhgad Institutes; they brought into perspective the benefits of this association. Students and Faculty at STES will now have an access to Case Studies, Simulation, Role Plays, Online Courses and References of various imperative management and business related articles. The Harvard content would now compliment the current curriculum and pedagogy.
The function was attended by STES Management Institute Directors, Principals, HOD's and Faculty Members.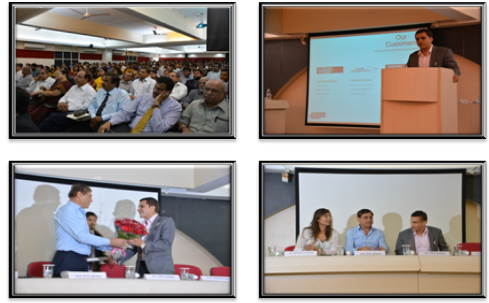 Faculty & Students Interaction with Mr. Hebbar
---
Date; 21st Nov 2013
Mr. Vinay Hebbar had an exclusive interactive session with faculty and the student to explain them about the Harvard content and how to use the same through their website. The function was held at SIOM.
FDP on HBSP Course Delivery & Course Pack Development
---
Date: 28th Nov 2013 – 3rd Dec 2013
FDP for faculty involved in Harvard from across the STES Management institutes was conducted at SIOM. Based on the specialization there were separate batches made. This activity ensured that all faculty members teaching the same subject were at the same wavelength and knew how to go about conducting the case study.
Prominent contribution was given by SIOM faculties for developing HBSP course pack for core subjects.
HBSP Orientation Program for Students
---
Date: 6th Jan 2014 to 11th Jan 2014
STES got into an alliance with the Harvard Business Publishing on 31st October 2013. Post the faculty development program, course mapping and course pack development for the various University Subjects, students were now to be introduced to the new learning methodologies.
A comprehensive orientation program was chalked out for students of MBA First Year at SIOM.
Contents of the orientation program are as below
Introduction to Harvard Teaching Methodology. Case Method Learning approach, Participant Centric Learning, Role Plays, and Simulations.
What was a Case?  Concept and approach. Use and effectiveness in understanding concepts.
How to Read a case. Short cycle and long cycle reading of case study. What to read in the case and how to formulate the data.
Case Study Analysis: How to Solve a Case. Approaches towards solving a case.
Simulation Overview: Use of simulation, advantages and relevance to management studies.
Introduction of Sample Case (in class reading by Students)
Sample Case Presentation by Students (3-4 groups, 10 min each)
Sample Case Presentation & Analysis Demonstration (Presentation by Students)
Spreadsheet Modeling (Online course for Learning Microsoft Excel)
HBSP Online Course – Spreadsheet Modeling
---
SIOM were the pioneers amongst all the STES institutes to have started teaching through online course material available from Harvard.
Online Course, Spreadsheet Modeling had been taken up by students at SIOM on 8th Jan 14.
More than 474 students (80%) had registered for the online course. The tools available for the facilitator for evaluations are been used effectively to evaluate students for the elective subject 'Computer Aided Personal Productivity Tools'.
------------------------------------------------------------------------------------------------------------------------------------------------------------------------------------------
BLOOMBERG CHAMPIONS PROGRAM
Bloomberg Champions Programme-Sinhgad has partnered with Bloomberg and has established a dedicated terminal, which helps empowering students with hands-on knowledge of markets and finance concurrently, the Bloomberg Champions Program, offers certification and other metrics based incentives for students.
| | |
| --- | --- |
| "Proud Moment for SIOM for securing the Top performing Ranking in the First Asian Edition of the Bloomberg Champions Program" | |
| | |
| | |
Bloomberg Faculty Training Programme 2017
Sinhgad Institute of Management has mapped some of the Semester-II & IV subjects with Bloomberg. Keeping in view the subject and topics Bloomberg Faculty Training Programme 2017 was organized on 13th January, 2017, Friday.
Participation in Bloomberg Olympiad 2016
Organized by T.A. Pai Institute of Management, Manipal 14th - 15th October 2016