Industrial Visits (Academic Year 2016-17)
Various industrial visit & field visits were organized for MBA students to take them beyond the textbooks to gain the practical knowledge. The recent industry visits for our students are:
| | | | |
| --- | --- | --- | --- |
| Company visited | Visit date | Divisions | No of Students Visited |
| DYNAMIC LOGISTICS LTD. | 23 AUGUST 2017 | Div A | 30 |
| COCA-COLA LTD. | 31 AUGUST2017 | Div B | 26 |
| KATRAJ MILK DAIRY | 14 SEPTEMBER 2017 | Div C | 27 |
| WEIKFIELD LTD. | 15 SEPTEMBER 2017 | Div D | 25 |
| SANDVIK ASIS PVT.LTD | 6 OCTOBER2017 | Div E | 20 |
| KATRAJ MILK DAIRY. | 12 OCTOBER 2017 | Div E & Div F | 30 |
Guest Sessions every Saturdays served a platform for the students to interact with Industry stalwarts and Academicians in-order to get a glimpse of the latest trends in the different fields like Marketing, HR, Finance, IB and Operations in corporate world. These sessions also help students to enhance their knowledge, clarify their concepts, and get to know more about functioning and expectations of different industries.
---
Joint Certification Program With ICICI Securities Ltd.
Joint certification Program on 'Managing Personal Finance' was organized for students of MBA Second Year Finance Specialization from 6th September 2013 to 5th October 2013.
The certification program was diverse in nature spanning areas of
Session 1: Financial Planning,
Session 2: Insurance planning,
Session 3: Retirement Planning,
Session 4: Investment Planning,
Session 5: Tax Planning and Estate Planning,
Session 6: Asset Classes & Product suitability and Goal planning.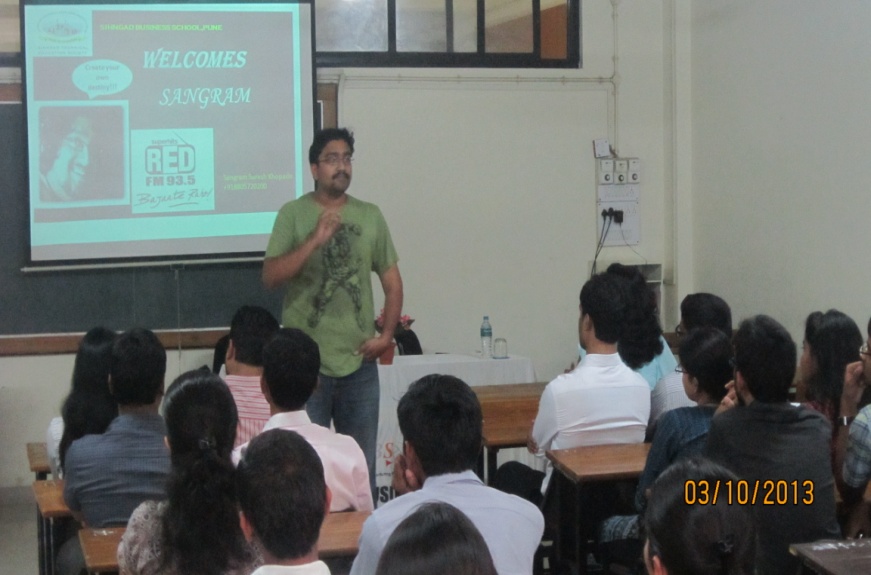 An extensive 21 hrs program on Certificate Course in Media Management was conducted for the MBA Second Year, Marketing Specialization students from 4 October 2013 to 22 October 2013. About 40 students registered and completed the certification this year.
---
Importance of Financial Management & Financial markets
Speaker Name:Mr. Sandeep Sahasrabudhe
Designation/ Company:Chief Financial Planner Moneywise Financial Planners
Financial management is an intelligent quest for optimal use of financial and other economic resources at our disposal. Financial Management cuts across wide range of sectors today- in fact, all sectors. Government agencies for instance make use of cost-benefit-analysis to determine the economic wisdom in certain projects. Financial management is a curious combinations of mathematical and science precisions with variables from the ever complex human behaviour. Financial management has many benefits to the society. Financial management has so advanced that many behavioral factors now play significant role in certain aspects of financial management like valuation where bankruptcy cost is factored into options price. The legal practitioners rely on time-value of money to same claims that involves financial compensation.
---
Industry Expectations from Management Graduates
Speaker Name:Mr. Sameer Jafrani
Designation/ Company:Senior Manager - Corporate Banking HDFC Bank, Pune
Mr. Jaferani started his session by asking the expectations of the students from the industry. The answers to which were good salary, professional growth, good work environment and better job profile. He then stressed on the importance of discipline, conviction, self development for professional growth. Mr. Jaferani also spoke about the Concept of Level 10 (Highest level of energy) an individual possesses and how to use it more productively. He emphasised that one should indulge in him/her self to build oneself and avoid involvement in others affairs, so as to go a long way.
---
Speaker Name:Mr. Supriyo Chaudhari
Designation/ Company:Strategy Consultant Ex. Director Tata Management Training Centre, Pune
Mr. Supriyo Chaudhari built his deliberations starting with the historical evolution of Strategy by sharing the example of India Pakistan war of 1962. He explained the different levels of strategic decisions,the use of the Ansoff's Model and Porters Five Forces Model for business strategies by giving examples. He threw open the discussion on Borderless world and how one(companies) could benefit from it by formulation and execution of business strategies.
---
Speaker Name:Dr. Bawge
Designation/ Company:Retd. Principal Writer for Sakal times
Dr. Kashinath Bawge spoke about the changes and challenges in Management. He demonstrated the importance of soft skills, creativity and domain knowledge.He threw light on the global perspective to manage the economic & cultural changes in the market. Dr. Bawge also spoke on Stress Interview and the types of thinking.
---
Analytical and Reasoning skills
Speaker Name:Mrs. Suvarna Khaparde
Designation/ Company:Founder & Trainer Acumen Academy, Pune
Ms. Suvarna Khaparde emphasized learning through various activities. She conducted various games and activities to imbibe analytical & reasoning skills among the students. Ms. Khaparde provided necessary inputs to the students to improve the work quality and enhance their employability.
---
Investor Awareness Program - Understanding Capital Markets
Speaker Name:Ms. Shubhra Singh
Designation/ Company:ACS ICSI Western Region
Ms. Shubhra Singh explained the capital market in India. She spoke about the different financial products, the participants in the capital market and the rules & regulations in the capital market. The speaker also spoke to students on investments both personal & business investments. The discussions included several ways to invest in the secondary markets without directly buying shares or bonds. The students were also distributed handouts on understanding capital markets.
---
Micro, Small & Medium Enterprises
Speaker Name:Mr. Krishnan
Designation/ Company:ACS ICSI Western Region
Mr. Balakrishnan aimed at creating awareness on MSME's in India, the importance and the working of MSME's. He explained the role of government in the development of MSME's and the rules & regulations governing MSME's. Self employment was evident from the talks of Mr. Balakrishnan. How to select and activity for self employment, who will assist, what steps are required, how can market potential be ascertained, etc were the points covered during the discussions.
---
Lean Six Sigma, Application & Significance in todays competitive scenario
Speaker Name:Mr. Nishikant Borge
Designation/ Company:Faculty - Six Sigma Asian Institute of Quality Management
Mr. Borge spoke on Six Sigma, its evolution, importance & application in the Industry. His communication & language was appreciable as it made students undertsand and connect the value of quality work & its undisputed worthiness. He covered topics such as why to measure quality, sigma level, concept of defects per million, opportunities etc. His deliberations helped clarify some of the many curiosities in the mind of the students.
---
Speaker Name:Ms. Sarika Kshirsagar
Designation/ Company:Soft Skills Trainer Freelancer
Ms. Sarika Kshirsagar deliberated over the importance of communication skills and moreover the soft skills. Her emphasis was on doing things differently and this is where soft skills is most needed. She explained that knowledge exists, what is required is the skills to exhibit this knowledge. The 3 key areas that one needs to focus at are 1) communication - both content and conduct aspects 2) Developing ones personality and 3) Self management.
---
Counselling for Personality Traits
Speaker Name:Dr. Sunita Ramam
Designation:Psychiatrist
A Psychometric test was administered to students based on the scores of which they were counselled on their personality traits, most students were open to experience coupled with extraversion, some students were prone to alexithymia. They were counselled on how one can enhance the positive traits and how one could overcome the shortfalls.
---
Introduction to the world of marketing
Speaker Name:Ms. Kamakshi Bharathan
Designation/ Company:Consultant Mortar & Pestle
Marketing is what the marketer shows to the consumer. Mrs. Kamakshi Bharathan infused the connect of various advertisements and consumer influences with the help of different types of advertisements. She was successful in making the students ponder upon the effects and implications of advertisements on an individual.
---
Technology, trends & transformation in the Financial sector
Speaker Name:Mr. Milind Date
Designation/ Company:CMA, Consultant & Trainer Ex. VP Praj Industries
• Milind Date Sir focused on various topics from finance sector, as he introduced students with the concept of London Interbank Offered Rate (LIBOR). He also explained students, how technology creates wonders in financial sector if we use it properly and how it creates blunders if misused with various practical examples. • Afterwards he correlated technology and its use in financial sector with historical evidences, he stated that papers was also invented as technology, and then he explained the journey of technology from paper to paperless that is computer base. Then he spoke about future of technology in financial market, at the same time he has justified his statements with day to day examples with which we come across.
---
Prospects in the Insurance sector, Insurance Sector - No demon no devil
Speaker Name:Mr. Arif Bootwala
Designation/ Company:Manager Sales Max New York Life Insurance
Insurance is one industry which most Management students are reluctant to enter into. There is hesitance on part of students to even register for Insurance companies, during the campus recruitment process. Mr. Arif Bootwala threw light on how the insurance sector works, what are its pros and cons with special reference to how these cons can be opportunised and better business be done.
---
Message Design – Considerations for creative idea visualization
Speaker Name:Ms. Kamakshi Bharathan
Designation/ Company:Consultant Mortar & Pestle
Creativity is at its best when left free without the controls, Advertising messages can be great, but they have to operate under certain controls. Mrs. Bharathan gave students an insight on how various aspects would help an advertiser to better create messages that not just appeal to consumers but also create the desire in them to procure the product.
---
Strategic Dimensions of value chain for sustainable development
Speaker Name:Mr. Avinash Wagh
Designation/ Company:Visiting Faculty Chartered accountant
Mr. Avinash Wagh introduced the students to the value chain, helped them to understand various dimensions and how each of these could be transformed to enable sustained corporate growth and development. He emphasised upon the financial aspects of the value chain.
---
Role of HR in Mergers & Acquisitions
Speaker Name:Dr. Santosh Bhave
Designation/ Company:VP Human Resource Bharat Forge Ltd.
Dr. Bhave was instrumental in providing a clearer insight to students on how various strategic alliances help an organisation and also the nation as a whole to grow. The importance of people involved in these alliances was the focus of his talks. Dr. Bhave discussed the role of various countries in transforming business. eg. how India has used various transformation methods to match the pace of globalisation.
---
Workshop on Interview skills
Speaker Name:Mr. Nitin Kare
Designation/ Company:Director NYK Solutions Pvt. Ltd.
Mr. Nitin Kare spoke about Interview skills, he discussed the do's and don't's at interview. How one should prepare for an interview for instance the body language, facial expression etc. Mr. Kare also spoke of the evaluation parameters that companies adopt while interviewing the candidate.
---
The art of taking decisions
Speaker Name:Mr. Nishant Mishra
Designation/ Company:General Manager Biogene Pvt. Ltd. Rasayani Biologicals
Mr. Mishra shared a lot of experiences wherein decision making was not on the mind, but moreso gained importance due to the situation. For instance : He mentioned that we live in a hyper-connected world and we all struggle with managing information and our workload so that we can accomplish what we need to accomplish. A big component of that is working with others. Even if you are a lone wolf, sooner or later, your interdependence will compel you to collaborate. This message will offer some helpful advice on gaining control in this aspect of one's life so one can work effectively and efficiently with others.
---
An introduction to supply chain management
Speaker Name:Mr. Sanjeev Ragit
Designation/ Company:Business Head-Supply Chain Management Ador Welding Ltd.
Mr. Sanjeev Ragit threw light on various aspects, challenges and transformations in the supply chain management. He stressed on the importance of various techniques such as Lean six sigma, Kanban etc with a special mention of Toyota's Production system.
---
Speaker Name:Mr. Sunil Mundra
Designation/ Company:Principal Consultant ThoughtWorks Technologies
Mr. Sunil Mundra effectively handled the queries of students with regards to interviews conducted for various levels. He emphasied upon positivism to be exhibited while answering questions that may have negative answers. For eg. Weakness of an individual - short temperedness; how this could be positively portrayed and so on.
---
Millenium Alliance and FICCI- 24th September 2012.
Millenium Alliance and FICCI- 24th September 2012. SBS in Association with Federation of Indian Chambers of Commerce and Millenium Alliance and Industry hosted an interesting session on how to leverage Indian creativity, expertise and resources to identify and scale innovative solutions in India on 24th September 2012. Millenium Allianceis an Innovation Partnership for Global Development between Federation of Indian Chambers of Commerce and Industry, Department of Science and Technology, Government of India and the United States Agency for International Development (USAID). The session was presided over by Mr Abhishek Sahay Assistant Director, Federation of Indian Chambers of Commerce and Industry and Mr Vikas Bhatnagar- Regional Head, TMI and representative of Millenium Alliance
---
Training conducted at Softbridge Solutions India Private Limited
---
A corporate training was undertaken by CA Rachana Ranade at Softbridge Solutions (I) Pvt Ltd. The training was conducted on 20 - 22 June 2012. It was a 20 hour training capsule where first 2 days had a schedule of 8 hours while the 3rd day schedule was of 4 hours. The training was imparted to 2 Japanese managers namely Mr Rei Sato (managers from Hitachi Inc, Japan) and the other being Mr. Makoto Matsuda (manager from Nomura Research Insitute, Japan.) The training was imparted in the area of Finance. On 20th of June, the basic concepts in the field of Finance and the changing financial reporting scenario in India.were discussed with the managers. This covered the topics like accounting in Tally software, Schedule VI of Companies Act vs Revised Schedule VI of Companies Act. On 21st of June, Balance sheet analysis was discussed with the Japanese managers where Balance Sheets of 2-3 listed companies in India. Japan and USA were discussed. Along with that the differences in Indian GAAP, Japanese GAAP and US GAAP were discussed. On 22nd June, various concepts in Costing were discussed and a test was conducted on the concepts discussed in the class. The test was assessed on the same day and the results thereof were given to Softbridge Solutions (I) Pvt Ltd. The training program was highly appreciated by the Japanese managers and they gave an excellent feedback about the same.