I experienced a great deal of personal growth during my time at SIMCA, improving specific knowledge bases and managerial skills by participating actively in the co-curricular, extracurricular activities and the perfect industry interaction. The faculty at SIMCA is outstanding. I found each of the instructors to be positive, hard working and accessible professionals.
Miss. PALIT PUSHPITA (MCA, 2007-10)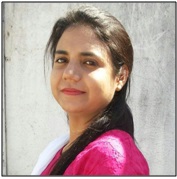 My college years have gone by so fast, and I cannot believe they are almost over. My life in SIMCA not only prepared me for my career, it prepared me for life outside of my career. I gained skills that cannot be taught.  I learned so much during my time there, and I am not just talking about the course I studied. The best thing to come out of college for me was that I learned a lot about myself, college was really a journey of self discovery for me. All professors of SIMCA are so corporative and their advice has helped me manage my time a lot better.
Miss. Neeru Koul (M
CA, 2008-11)
As a student in SIMCA, one gets lots of knowledge and co-operation. Right from taking admission, the personal caring begins and one finds very cozy study atmosphere at SIMCA. Here I got very friendly atmosphere, being provided by faculty as well as by the administrative staff The placement assistance helped me realize my capabilities by helping me with internships and today I am well placed in Persistent Systems Ltd a reflection of the fine education we have received at SIMCA. The entire curriculum of MCA was wonderful and fulfilling experience at SIMCA
Miss Priya Pataskar (MCA, 2010-13)
I really believe it is a privilege to come to this Institute. In my years here I had the greatest time ever and made some of the best friends a person could have.  All of the teachers were AMAZING!!!!  I would also appreciate here the highly dedicated placement cell, which was quite professional in terms of multimedia power point presentations on important placement topics, provision of helpful information for placements and the required assignment tasks along with complete research work on the fruitful websites of all business companies and never the less root map, indicators of assignment guided by head of department repeatedly to be exactly on the track of assignment
Mr. Nitin Lomate (MCA, 2012-14)