TRAINING & PLACEMENT CELL
Department of Management studies of SKNCOE has a well-equipped Training & Placement Cell which is committed towards providing excellent job opportunities to its students and also raising their employability levels. The entire placement activity is co-ordinated by Dr. Sanket Charkha (Training & Placement Officer).
---
OBJECTIVES:
Assisting students to develop/elucidate their career interests, and their short and long-term goals through individual counseling with the help of Mentor – Mentee Program.

Preparing students for campus recruitment by imparting training in Aptitude tests, psychometric test, group discussions, technical and HR interviews through professional trainers, alumni & industry experts.

Arranging grooming sessions & expert talks of eminent personalities from Industry & academia for personality development of the students.

Providing on-campus & off-campus summer internship, live projects & final placement opportunities.

Regular interaction with industry for strengthening Industry Institute Interface through HR meet, seminars, workshops, industrial visits etc.
---
CAREER DEVELOPMENT ACTIVITIES:
Bloomberg Champions Programme


Student Training Program (STP)


Aptitude training Program (By FUEL)


TCS Ion - Career Enhancement Program


Assessment by First Naukri.Com


AMCAT (Assessment Test)


Personality Development Program


Grooming sessions on GD/PI


Communication Skills Program


Entrepreneurship Development Program


Expert talks from Alumni and Corporates


Mentor – Mentee Program


Industrial Visits


Industry Internship Programs


Live Projects
---
PLACEMENT RECORD –LAST 5 BATCHES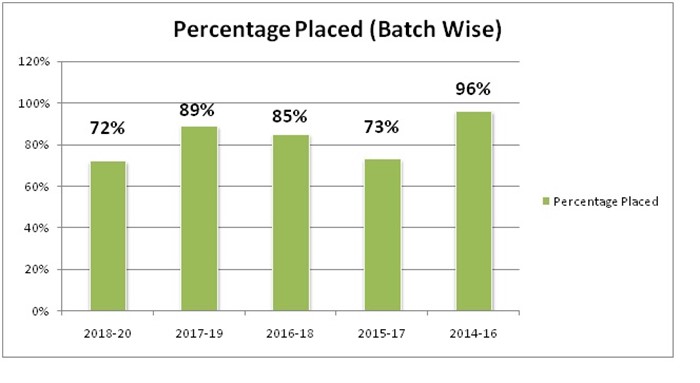 ---
TOP 10 PLACEMENTS
| STUDENT NAME | COMPANY NAME | BATCH | SALARY OFFERED | LOCATION |
| --- | --- | --- | --- | --- |
| Shankar Dange | ZydusBiochem Pharm Ind. Ltd. | 2014-16 | 4.32 LPA | Pune |
| Sanmeet Sunil Nagarkar | ITC Ltd. | 2014-16 | 3.5 LPA | Nagpur |
| Pranjali Prabhakar Palyekar | Shoppers Stop | 2013-15 | 4.8 LPA | Goa |
| Randhir Singh | TP-Link | 2014-16 | 5.5 LPA | Gurgaon |
| Satyajeet Shinde | Reckitt Bencikser | 2014-16 | 4.16 LPA | Kolhapur |
| Dishant Doshi | S&P Global | 2015-17 | 2.8 LPA | Pune |
| Vivek Sharma | Reliance Global | 2015-17 | 3.8 LPA | Navi Mumbai |
| Akash Garpalliwar | Videocon | 2016-18 | 3.5 LPA | Aurangabad |
| Pratham D. Welhekar | Cavincare | 2017-19 | 3.8 LPA | Madhya Pradesh |
| Aishwarya Sopan Dumbre | Deloittee | 2018-20 | 6.75 LPA | Hyderabad |