Central Library, SKNCOE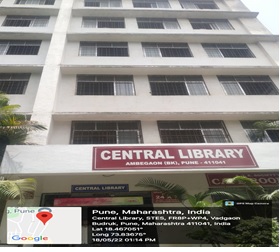 The Library is well furnished and managed by qualify staff. SKNCOE Library is situated on the Ground Floor of STES Central Library building. Hon. FounderPresident of STE'SProf. M. N. Navale imagined the plan of Central Library facility, which isestablished in Sept., 2012. There are 9 sectionalLibraries under the Central Library, arrangingto the individual institutes Library. A committed six-storey building of 6870sq.m.with huge Reading Halls, Digital Library, Literature and other amenities has been allotted to the library facilities of the campus.
Silent Features of SKNCOE Central Library:
Book Collection:
Total Books (Volumes): 34707
Tiltels : 5298
Total Expenditure: RS. 1,06,97,262.50/-
Print Journals:
No of Journals: 131
Total Expenditure till date : 4,03, 604.00/-
E Journals Database:
Knimbaus e library:
Knimbus Digital Library and Remote Access is gives facility to access more than 20000+ Open Access Journals like Springer, Wiley, IEEE, JOSTR, ScienceDirect and Oxford University Press Collection, and 3000+NPTEL Lectures. 1 Lakh+ Open Access e-Books, 3 Lakh+ Educational Videos.
Digital Library:
Digital Library PCs : 30
Internet Speed :  4 mbps